Resources Available at SUNY Suffolk
---
---
---
---
---
---
Resources Available at Outside Organizations
---
---
Riverhead Center
893 E. Main Street
Riverhead, New York 11901-2542
Telephone: (631) 852-3500
Fax: (631)852-3505
Coram Center
80 Middle Country Road
Coram, New York 11727
Telephone: (631) 854-2300
Fax (631) 854-2123
Smithtown Center
200 Wireless Boulevard
Hauppauge, New York 11788
Telephone: (631) 853-8714
Fax: (631) 853-8842
South West Center
2 South 2nd Street
Deer Park, New York 11729
Telephone: (631) 854-6600
Fax: (631) 854-6672
Family Service League
Homeless Prevention and Rapid Re-housing provides one-time financial assistance to homeless individuals and at-risk homeowners in the Township of Islip. Eligible households can receive assistance with rent arrears, security deposits, and first month's rent.
631-647-3100 ext. 6230

Family Shelter provides emergency housing services to homeless families placed through the Suffolk County Department of Social Services. The program accommodates homeless families with a safe environment and the support needed to secure permanent housing.
647-3100 Ext. 6053

Suffolk Hope aims to reduce homelessness in our communities by providing economically supported, permanent housing to Suffolk County residents who are currently homeless.
631-647-3100 ext. 6230
Community Development Corporation of Long Island
The Housing Choice Voucher (HCV) program provides rental assistance to low-income families through Federal funds administered by the New York State Homes & Community Renewal (HCR).
Rental Assistance Department
631-471-1215 x184
rent@cdcli.org
Suffolk County Rent Assistance
Long Island Coalition for the Homeless
The Long Island Continuum of Care is designated by the Department of Housing and Urban Development to oversee the regional strategy for ending homelessness. The Continuum of Care envisions a community in which all members have access to safe, decent, and appropriate housing options.
Home Energy Assistance Program (HEAP)
HEAP is a federally funded program that assists low-income New Yorkers with the cost of heating their homes. HEAP also offers an emergency benefit for households in a heat or heat related energy emergency.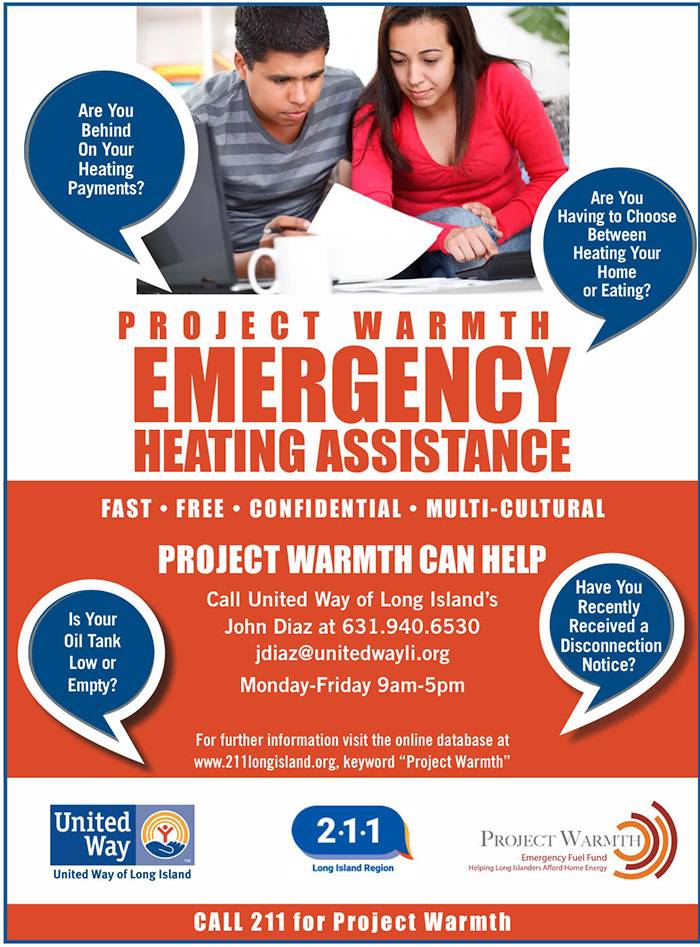 Project Warmth is an emergency assistance program administered by United Way of Long Island to help low-income families and individuals with energy emergencies. You may be eligible to receive a one-time grant to pay for heating costs.